Vested Legacy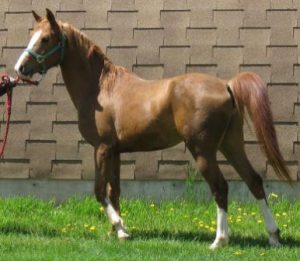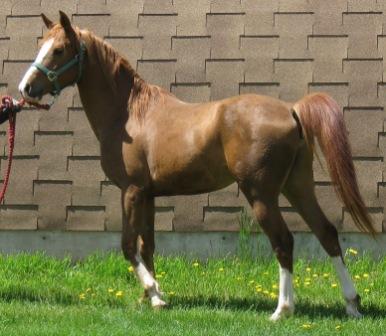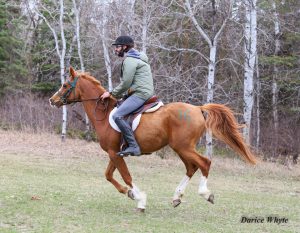 Vested Legacy, ridden by Jeff From, at the Birds Hill Fast Flat Forest ride, May 2019
Credit: Darice Whyte
(Vortexx x My Grand Madame by *Grandeur NSB)
2009 Chestnut Gelding
Height: 14.3 hh
SCA bred Vested Legacy, and kept him as a stallion until 2018. He sired our young stallion SCA Vision, out of Polaris by Philosophy; the mare SCA Dance With Verve, out of Dancing Queen by Philosophy; the gelding SCA Valour, out of Paper Trail by Pyatigorsk; and the filly SCA Malaya, out of Memorable Moment by Philosophy.
Vested Legacy is the first foal of his sire Vortexx. Vortexx is by the *SALON RASB son, PISTASCHIO and is out of *Vienna MBF. PISTASCHIO set a track record at Grants Pass in Oregon. *Vienna MBF is by *MENES RASB 2/11(6,0,3) and out of the mare *PUSTINIA RASB . *PUSTINIA RASB raced 2/14(3,1,1) and held the All-Union Speed record for 2 year olds at a distance of 1000 meters.
Vested Legacy's dam was My Grand Madame, whose sire *Grandeur NSB was a TOPOL grandson. My Grand Madame was out of My Madame, who was out of Harpona. Both of Harpona's parents were sired by *Pietuszok PASB. Thus, Vested Legacy is 21.88% PRIBOJ x TAKTIKA, 5x4x4x5x5.
On his sire's side, Vested Legacy is bred similarly to Nobby, winner of the 2008 and 2010 World Endurance Championships. Nobby's paternal grand-sire was *MENES RASB and Nobby's dam, Pudra, was out of *PUSTINIA RASB. Vested Legacy's paternal grand-dam, *Vienna MBF, was by *MENES RASB and out of *PUSTINIA RASB.
Vested Legacy completed four 25-mile endurance rides in Manitoba, three in 2019 and one in 2022. He completed a competitive trail ride in May 2023, and more competitive rides are planned through the summer and fall.