Over the years, Sturgeon Creek Arabians has sought to breed Arabian horses with sound and correct conformation and large hind quarters to produce athletes with great movement and willing attitudes, by line-breeding to the gene pool created by the offspring of PRIBOJ x TAKTIKA, and *SABELLINA PASB. Here are the Stallions that have contributed the most to our breeding program.
Pyatigorsk, 1979 – 2003
(Pietuszok Dwa x Mistical Lady by Tornado)
1979 Bay Stallion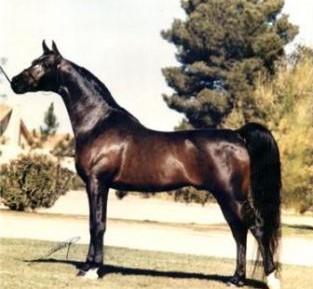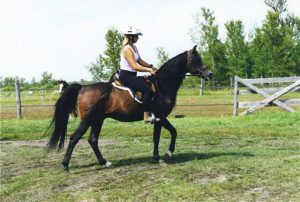 An investment in the fledgling Pyatigorsk Syndicate was the beginning of what eventually became Sturgeon Creek Arabians, and Pyatigorsk was the foundation of our breeding program.
Pyatigorsk's grandsire, *Pietuszok RASB, became the main progenitor of a racing sire line made famous in Poland before World War II. Although *Pietuszok RASB was born in Russia, the Polish breeders were able to buy him, so they could reintroduce his sire line to their country. *Pietuszok RASB's grandsire, PIOLUN, was one of 200 Arabian horses taken from Poland to Russia during World War II. *Pietuszok RASB never raced, but his brother TOPOL and his three full sisters PTASHKA, PLATINA and POTENCJA, all raced, and they were all champions in Russia. The sire of *Pietuszok RASB and his siblings was PRIBOJ, winner of 6 of his 8 races including the Russian Derby. At one point, PRIBOJ and his offspring held a majority of the racing speed records in Russia.
In Poland, *Pietuszok RASB became a known source of racing blood, creating superior race horses that won the Polish Derby and Oaks.
When Dr. George Allen was finally able to acquire *Pietuszok RASB from Poland, *Pietuszok RASB had an enlarged heart and lived only long enough to sire two foal crops. Among them was Pietuszok Dwa, the only line-bred son of *Pietuszok RASB. Pietuszok Dwa only produced 10 foals before his untimely accidental death as a young horse, but he passed his legacy to Pyatigorsk.
Pyatigorsk was syndicated for $1 million dollars. During his first 13 foal crops Pyatigorsk produced 284 foals. Only 12 of them raced, but 6 (50%) were race winners and 3 (25%) were Stakes winners! This high heritability for athletic ability has made his foals excellent in endurance.
So, it was rather amazing that this incredible stallion, Pyatigorsk, came to stand at stud at Sturgeon Creek Arabians in 1992. During the nearly 10 years he was here, life changed markedly, as the number of mares sent here for breeding increased dramatically. We became the first Manitoba breeders to export semen to the United States. We also took advantage of Pyatigorsk's presence to accumulate mares that were known to produce well by him.
Pyatigorsk is sire or grandsire of almost 80% of our SCA-bred endurance horses. We have sold a number of his offspring in California for endurance competition. Reason To Believe achieved the most, partly because of his ability, but also due in large part to the dedication and ability of his owner.
Knowing Pyatigorsk was a privilege; caring for him was an honour.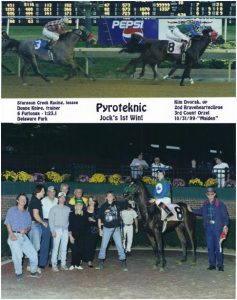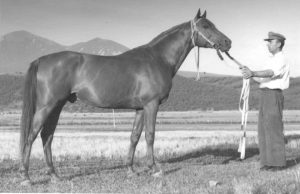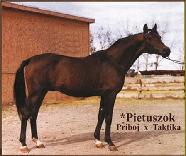 ---
*Sekstans PASB, 1979-1996
(ETAP x Sekwana by BANIO)
1979 Bay Stallion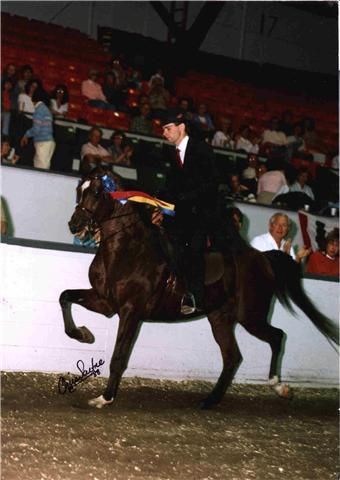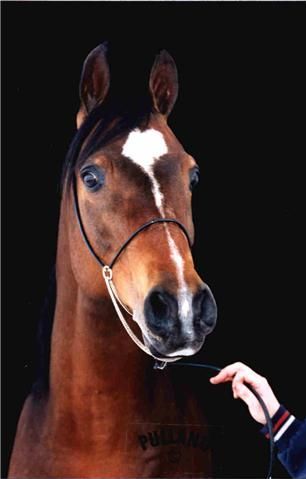 This wonderful stallion was owned by Sturgeon Creek Arabians for five years until his untimely death in 1996. *SEKSTANS PASB's pedigree contained all the elements of the best of Polish breeding both for the show world and for racing. *SEKSTANS PASB was a very consistent sire and produced very athletic offspring.
*SEKSTANS PASB was born at Janow Podlaski stud in Poland. His full brother, *Set PASB, was leased to North America for a few years before returning to Poland. *SEKSTANS PASB resulted from the same breeding cross that produced *BASK++ PASB: Kuhailan Haifi stallion bred to a Mlecha dam line mare. *SEKSTANS PASB's sire, ETAP, died at an early age and thus his blood is not wide-spread. *SEKSTANS PASB's dam, Sekwana, was a daughter of BANIO (a full brother to *BASK++ PASB) not used much in Polish breeding. Sekwana was out of *SAKWA PASB, a full sister to *SABELLINA PASB.
*SEKSTANS PASB raced in Poland for 4 years in 30 races. His best distance was 1 1/8 miles where he came either 1st or 2nd 7 times out of 10 races. After his importation to North America, he was trained for and successfully competed in English Pleasure. His most memorable win was at the 1988 All Arabian Show of New England where he was named champion in an Open Division Stakes class over 30 entries and even had to win a three horse run-off to win the championship. His trainer described *SEKSTANS PASB as a perfectly cadenced horse.
He was bred to Moment Of Mine five times, and produced four males and one mare. Most of these have competed in endurance races in California. The mare, Mistansza, completed 2,620 AERC miles, including the Tevis Cup, the Mt. Charleston, and the Cow Tanks Multi-Day ride. She had several Best Conditioned awards to her credit. She was Regional Pacific Slope Mileage Champion in 2000. Her full brother, Seek The Moment (Mack), owned by Cheryl Dell, DVM in California, won several 50 mile races. Another full brother, Savour The Moment, also in California, was ridden in his first race by a 10 year old who was named Best Junior for the ride. Savour The Moment earned 2,540 AERC completed miles, placed first or second in some races, and was named Best Conditioned in some races.
*SEKSTANS PASB produced two excellent daughters by the Russian-bred mare *Dolly NSB. One of these mares, Danseuse Du Nord was owned by Sturgeon Creek Arabians. Both these daughters produced excellent offspring.
---
*El Purchino NSB
(Purpur x Cynthia by *MUSLIN RASB)
1980 Chestnut Stallion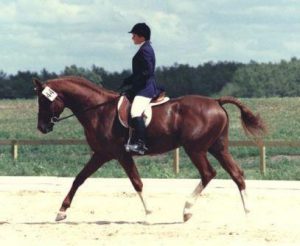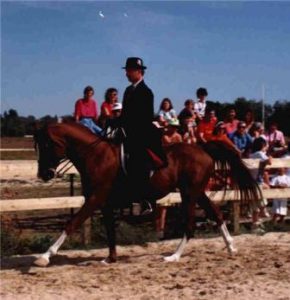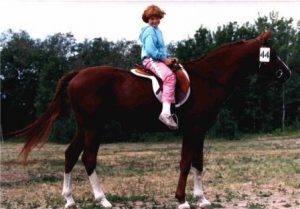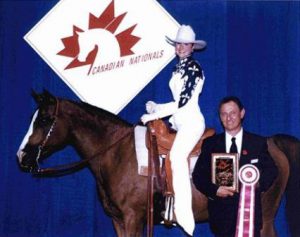 This 1980 chestnut stallion was born in Holland of straight Russian parents. While all of his grand-parents were born in Russia, all but one of his great great grand-parents came from Poland; the exception being Aswan. Although he was in-bred to POMERANETS 2×5, *El Purchino NSB was also in-bred to ARAX 4x4x3.
*El Purchino NSB was tall, standing 15'3, and possessed many ARAX traits: a magnificent large black eye; a long hip and a powerful hindquarter. We gave him the barn name "Puppy" …a true indication of his wonderful disposition. He nicked well with a wide variety of mares of diverse gene pools. This is a well-known characteristic of AMURATH SAHIB in Poland, ARAX's sire.
*El Purchino NSB was examined and tested by the examination committee of the Canadian Trakehner Horse Society. He passed their tests and became only the SECOND pure-bred Arabian stallion to be approved by the CTHS for breeding within their rules, which would allow his offspring out of Trakehner mares to be eligible for registration as a Trakehner. Their testing included quality of movement, as well as height.
When *El Purchino NSB came to North America, he was leased for two years to Phyllis Brownlee in Oregon. There, he sired many good offspring. One of these is the stallion WW Sundancer (ex Melissa Blue), who has done quite well at the top levels in the US show ring in Hunter Pleasure and working over fences. Another was a gelding who was owned by one of the top endurance competitors in the US: Lew Hollander. This gelding won the first endurance race he was ever in by 40 minutes over the next finisher, a distance of 30 miles.
For Sturgeon Creek Arabians, *El Purchino NSB sired the excellent daughters: Balalovja (ex Balakaia by Kaiyoum++), Czorteena (ex TW Czorta by SAMTYR), and Selebrity (ex Stop The Show by *PESNIAR RASB).
At age 18, *El Purchino NSB was purchased by Karim and Sue Shihata (Suncatcher Arabians) of North Carolina, and they were very pleased with his production for them, especially the colt SC Gunslinger. As did Phyllis Brownlee and Sturgeon Creek Arabians, Karim has found considerable success taking *REZUS++ PASB daughters to *El Purchino NSB.
In 1998 *El Purchino NSB's son, Czar Kazan (ex Balakaia), placed 7th out of 37 entries when shown by a teenager at a junior level in the Western Canadian Dressage Nationals.
In 2002, *El Purchino NSB's daughter, Pursun Elitee (ex Sharsam Sunshyne), was Top Ten at the Canadian National Arabian Horse Show in Junior Amateur Reining shown by her owner Diana Jemieff of Yorkton, Saskatchewan.
*El Purchino NSB

Purpur

POMERANETS (PRIBOJ x Mammona by OFIR)

*PLANETA RASB (Aswan x PAMIATKA by ARAX)

Cynthia

MUSLIN RASB (*SALON RASB x *MAGNOLIA RASB by ARAX)

*Nahodka RASB (ARAX x *Nepriadwa RASB by POMERANETS)
---
*El Kasaka NSB
(PATRON x Purga by KANKAN)
1975 Chestnut Stallion
Imported from the Netherlands to the US in 1978 and then onto Canada in 1979, this stallion sired 295 registered get, including two stakes winners. *El Kasaka NSB was 100% Russian, and stood 15.3hh. He was sired by stakes winning PATRON, and out of a dam Purga with two racing dam lines.
Sturgeon Creek Arabians' association with El Kasaka NSB began with our purchase, in 1984, from Dr. George Allen of Willomar Arabians, of our foundation mare, Moment of Mine (El Kasaka NSB x Magic Momment). In 1987, we purchased a share in the *El Kasaka Syndicate, which included one breeding a year to *El Kasaka NSB. He sired three offspring bred to our mare Balalinda (*Beander PASB x Resza): the mares Balakara and Brianka, and the gelding Britton. He also sired our mare SCA Firebelle (ex LR Firebird by *Gaypolka++++ PASB), our gelding SCA Kaiak (ex Balakaia by Kaiyoum++), and our gelding SCA Dartagnan (ex *Dolly NSB by MUSLIN RASB). Also in 1994, SCA purchased the mare My Madame (El Kasaka x Harpona by *Gaypolka++++ PASB), shown on the Significant Mares page with her six SCA-bred offspring.
---
Philosophy, 1998-2018
(PISTASCHIO x Kaluwa by Pyatigorsk)
1998 Bay Stallion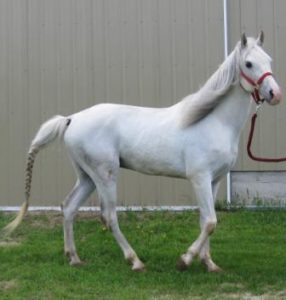 Philosophy has been described as an excellent source of Naseem blood. Philosophy was a grandson of *SALON RASB, who was a Naseem grandson. Philosophy had three additional lines to Naseem: one through NASLEDNIK and two through Silwa, who appeared twice in his maternal grandsire Pyatigorsk's pedigree. Naseem was a Skowronek son. Also, through Pyatigorsk are numerous lines to Skowronek. Philosophy also had several lines to Rodania, through his FOUR lines (16%) to PRIBOJ x TAKTIKA, as well as multiple lines through Pyatigorsk.
While Philosophy had elements of refinement and prettiness in his pedigree, he also had race blood on both his sire and dam sides. His sire, PISTASCHIO, was out of *Panntera RASB; PISTASCHIO set a track record at Grant's Pass, Oregon. *Panntera RASB's dam was *PANAMA OF TERSK RASB, whose dam was PLATINA (PRIBOJ x TAKTIKA).
Philosophy's maternal great great grand-dam was the phenomenal race mare *SABELLINA PASB, who won the Polish Derby and Oaks Stakes races. Not only was *SABELLINA PASB a tremendous race horse, but she proved extremely prepotent, as she created a racing dynasty in Poland and in the United States. Her son *SAMBOR++ PASB and his son SAMTYR are both in the Arabian Trust Racing Hall of Fame. Philosophy's great grand-dam, EW Sabaska by *BASK++ PASB, did not race, nor did her half-sister EW Rema by *MELLON PASB. However, EW Rema produced a tremendous race horse, HT SARAH by *EL PASO PASB.

Philosophy proved to be a very consistent sire, having produced excellent offspring for SCA from daughters of several different stallions. Several offspring have excelled in endurance, and others have been used in our breeding program.
Philosophy's dam, Kaluwa, produced two excellent foals by PISTASCHIO for SCA, the mare Spirited Music and Philosophy. Spirited Music has been very successful in endurance, with an AERC Decade Team Award in 2013 and a completion rate of over 90% including the challenging Tevis Cup. She reached 3000 AERC miles in 2015, and received an AERC 10-year Longevity Award in 2016.
The gelding Photon (Philosophy x Czorteena by *El Purchino), bred by SCA and owned by Jerry Gillespie, DVM in California, proved to be an excellent endurance horse; he placed 1st in the Chamberlain Creek 30-mile ride in 2016 and often finished in the top ten.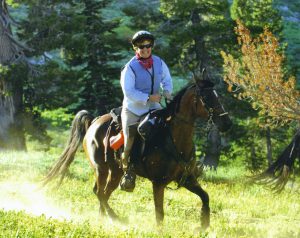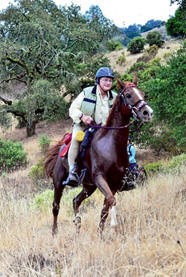 ---
IMAGINE THAT MA
(MONARCH AH x *Odessaa by Enos PASB)
1998 Bay Stallion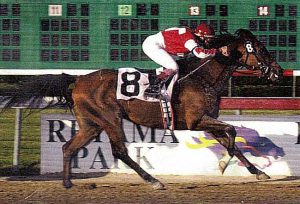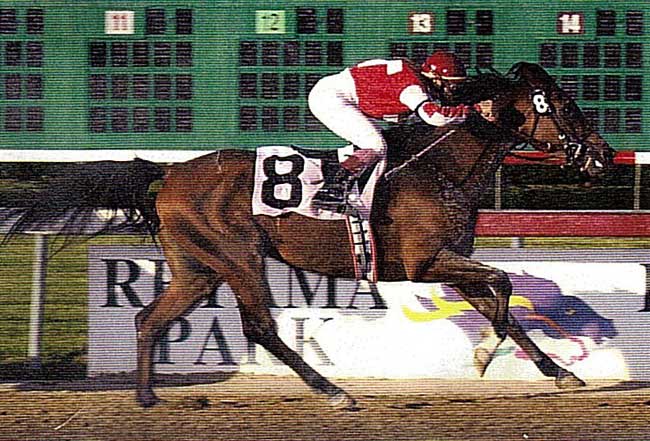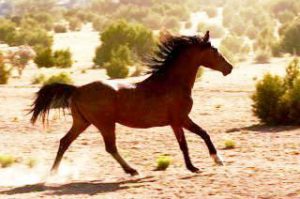 IMAGINE THAT MA was a race winner at Retama Park and Sam Houston Race Park in Texas.
This race-winning son of US National Champion Racehorse MONARCH AH was acquired by Pecos Valley Arabians and Sturgeon Creek Arabians in 2010. IMAGINE THAT MA stands at stud at Pecos Valley Arabians in New Mexico. As of 2015, Pecos Valley Arabians is the sole owner of IMAGINE THAT MA.
IMAGINE THAT MA sired 7 foals for SCA between 2011 and 2014: SCA My Imagination, Independent Mover, Inner Sanctum, SCA Mirror Image, Imagine That Sound, SCA In The Mood, and SCA In Motion.
IMAGINE THAT MA is the result of a very successful breeding cross, *BANDOS PASB daughters taken to MONARCH AH. In this case, it was a daughter of a *BANDOS son, *ENOSS PASB, that was bred to MONARCH AH. A very large percentage of the mares taken to MONARCH AH were *BANDOS daughters, and nearly all of the resulting progeny were race winners.
IMAGINE THAT MA's pedigree includes the blood of two great *Pietuszok PASB daughters, *WILMA PASB and *ORLA PASB, which makes him very well-suited to breeding with Pyatigorsk daughters.
IMAGINE THAT MA's pedigree is power-packed with racing ancestors. 11 of his first 14 ancestors were race winners, and 6 of the 14 won multiple Stakes races. One of the three non-winners did not race, but her full sister won the Polish Triple Crown of racing.
As a racehorse, IMAGINE THAT MA raced 2 years and had 16 starts. He won 3 races and placed second once, earning just over $12,000. He came third in the Lone Star Arabian Futurity Stakes race. He won his last race but a knee injury ended his race career.
IMAGINE THAT MA's sire, MONARCH AH won three Darley awards. In 1990 and 1991 he was Colt of the Year, and in 1991 he was also named Race Horse of the year. During his race career, he won 14 Stakes races, including the US Derby, and set four track records. MONARCH AH's sire, *WIKING PASB, was 1985 Race Horse of the Year. *WIKING raced in both Poland and the USA, with a combined race record of 5/37(20,10,2) 10. MONARCH AH's dam, *SASANKA PASB, was a grand-daughter of the famous Polish race mare *SABELLINA PASB. *SASANKA won the Polish Triple Crown of racing and had a race record of 2/14(10,0,2)D+O+AP+4. *SASANKA's dam, SANTA, had a race record of 1/9(6,1,0)D+O+2.
Neither IMAGINE THAT MA's dam, *Odessaa PASB, nor his maternal grand-dam *Orneta PASB, raced. *Orneta was exported from Poland to the USA as a 5 year old and *Odessaa was exported to the USA in utero. While *Orneta did not race, her full sister *ORGIA PASB, who was five years older, was an outstanding race horse in Poland, winning the Polish Triple Crown: 2/12 (10,1,0)D+O+AP+5. *Orneta was a daughter of the great *Pietuszok daughter *ORLA PASB whose race record was 2/11(10,1,0)D+O+2xAP+4